ICIT 2021 application is now open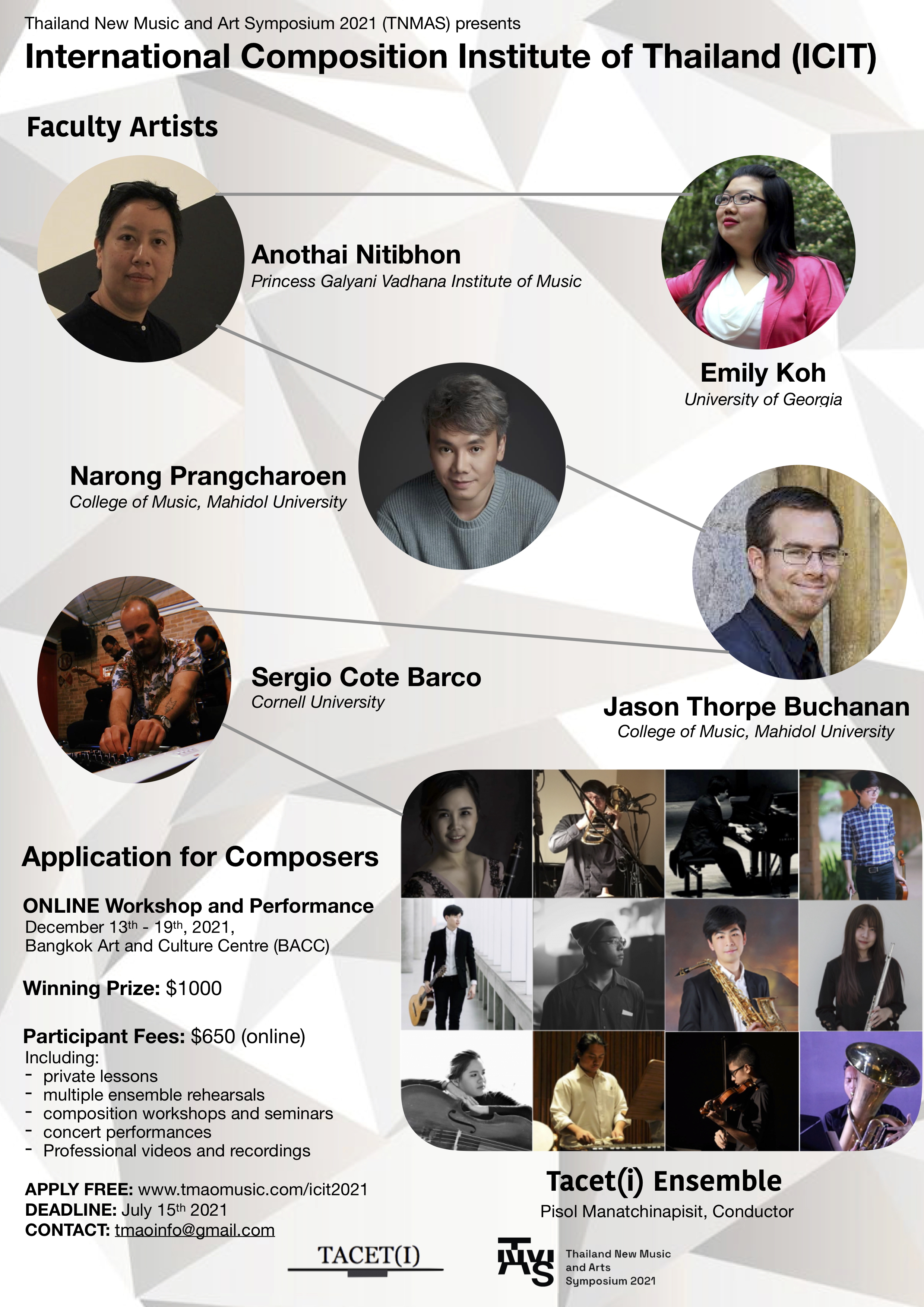 International Composition Institute of Thailand (ICIT) is an intensive and unique experience for young composers around the world to experiment their own sonic and conceptual ideas with highly artistic performers, ensembles and participate in in-depth sessions with professional contemporary living mentors/composers.
The ICIT will be held in December 13th – 17th, 2021 with the partnership of Bangkok Art and Culture Centre (BACC). Moreover, the selected works of participants will be premiered in public concert during December 17th – 20th, 2021 at the Thailand New Music and Arts Symposium (TNMAS 2021).
The mentor composers are including Jason Thorpe Buchanan (USA/Thailand), Sergio Cote (Colombia/USA), Anothai Nitibhon (Thailand), Emily Koh (USA/Singapore) and Narong Prangcharoen (USA/Thailand).
Application Deadline: July 15th 2021
Application Fee: Free
Prize: The winner will receive $1000 USD as well as a commission for the next ICIT and TNMAS 2022
Participants Fee (ONLINE): 650 USD (including lessons, lectures, rehearsal times, concert performance and professional documentation of recordings and videos)
*Case of in-person: In case the travel is possible, we can offer foods, single room-accommodation, access to the symposium and 1-day sightseeing ticket in Thailand (13 – 20th December, 2021). This will cost additional fees for $250. This is optional, participants are free to decide.
TNMAS 2021 Open Call applications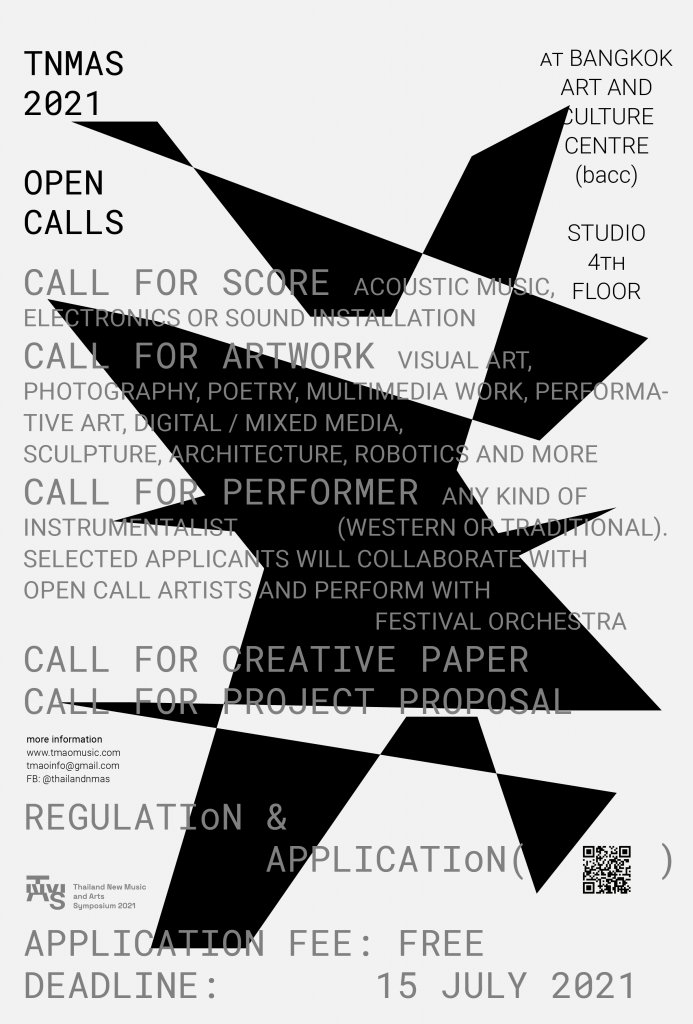 Thailand New Music and Arts Symposium 2021 (TNMAS) is seeking new works with diversity of art forms including artwork, multimedia, composition, and installation, as well as artists and performers to be featured in the 2021 program at Bangkok Art and Culture Centre (BACC) during 17th – 19th December 2021.
The theme of this year is "Hybrid World, Cultural Reconnection" The open calls aim to explore artistic works which are related to contexts among cultural diversity, disconnection and connection in human society, the reflection from multiculturalism and technological aspect in the hybrid world of art.
Application Deadline: July 15th 2021
Application Fee: Free
Installation Date: December 15th and 16th 2021
Exhibition and Performance Dates: December 17th – 19th 2021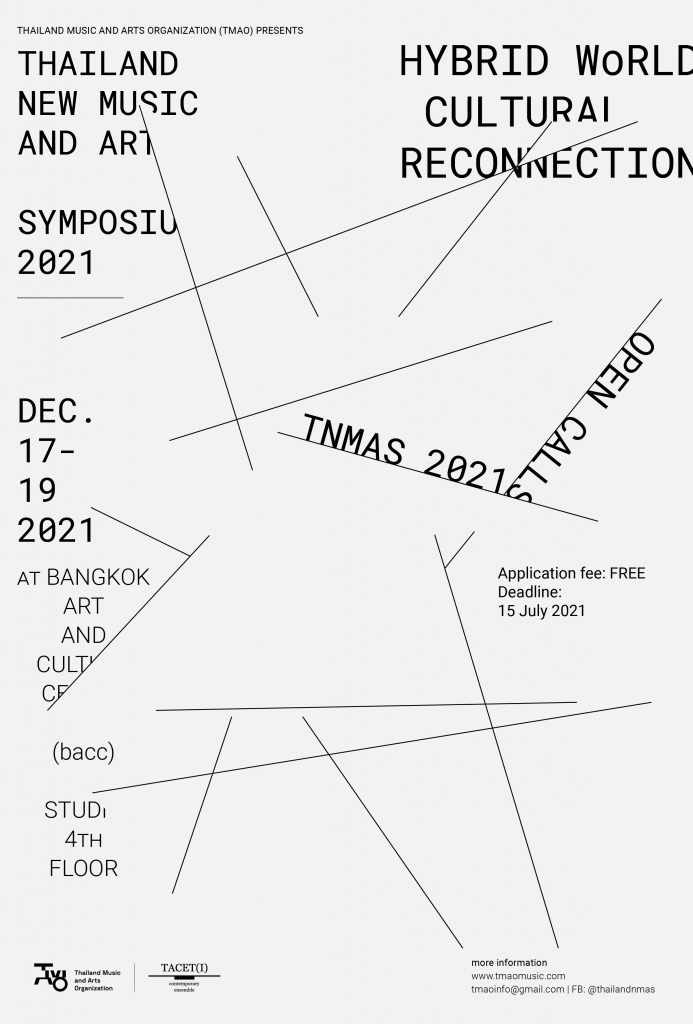 TNMAS 2020 RELEASE: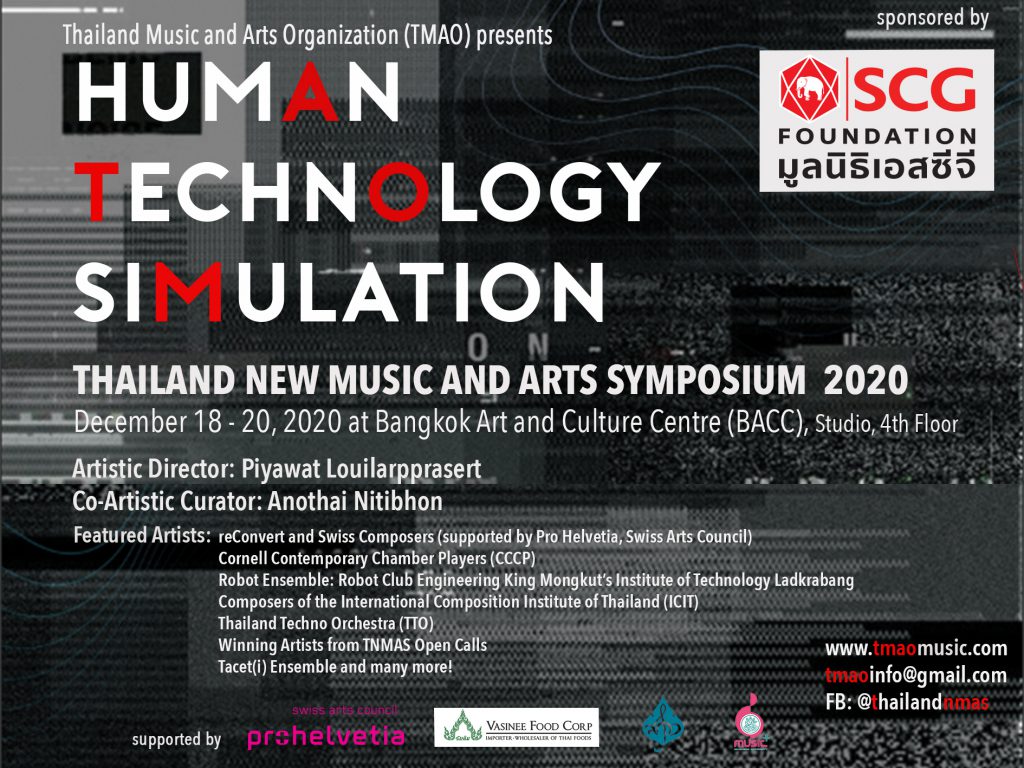 TMAO collaborates with Tacet(i) Ensemble (Thailand), reConvert (Danish/Switzerland), Swiss Composers (Switzerland),  Thailand Techno Orchestra, Robot Club Enginering KMITL, and many more artists to conduct the new art/music symposium at Bangkok Art and Culture Center (BACC). The activities are including Open calls (Artworks, Scores and Performers) for Thailand New Music and Art Symposium (TNMAS) and International Composition Institute of Thailand (ICIT). We have received more than 300 applications in total from all over the world. Due to COVID situation, TMAO has decided to postpone the event to 15 – 20 December 2020.
TMAO announces 6 selected participants for International Composition Institue of Thailand 2020 (ICIT)
TMAO is happy to announce 10 selected ICIT composers from around the world to participate and work with resident ensembles, composers, and artists at Thailand New Music and Arts Symposium. Kevin Lang (Austria), Kevin Leomo (Scotland), Jakob Stillmark (Germany), Toh Yan Ee (Singapore), Yuting Tan (Singapore/USA), Jonas Regnier (France/Canada).
*All selected participants will work closely with resident composers and ensemble during 15 – 20 December 2020 at Silpakorn University and Bangkok Art and Culture
ICIT 2020 Fellow Composers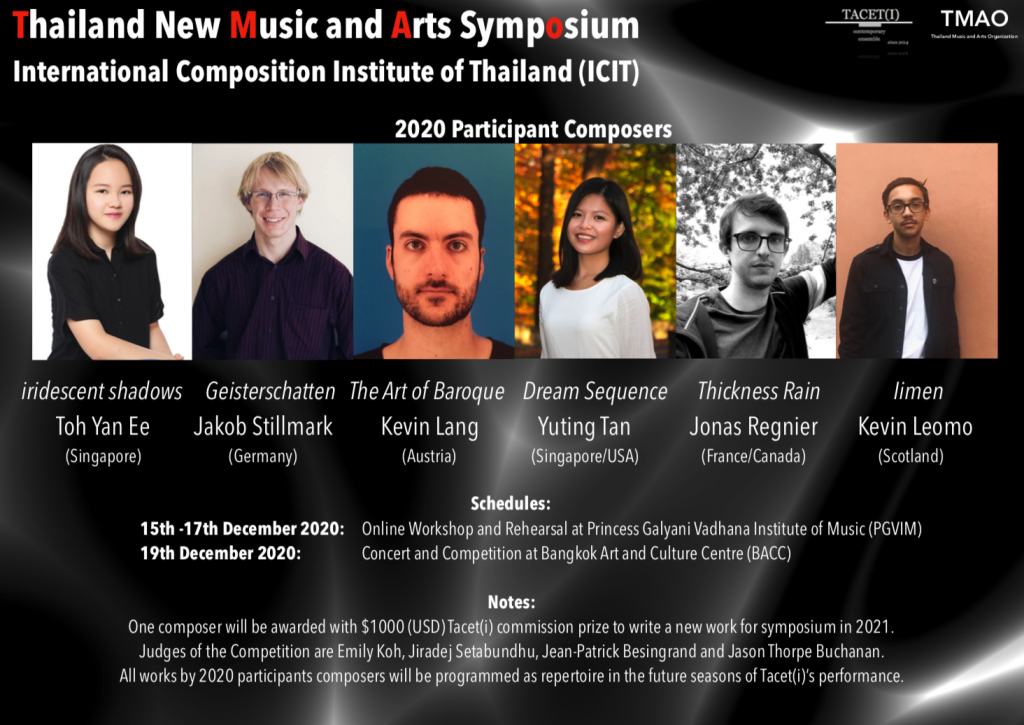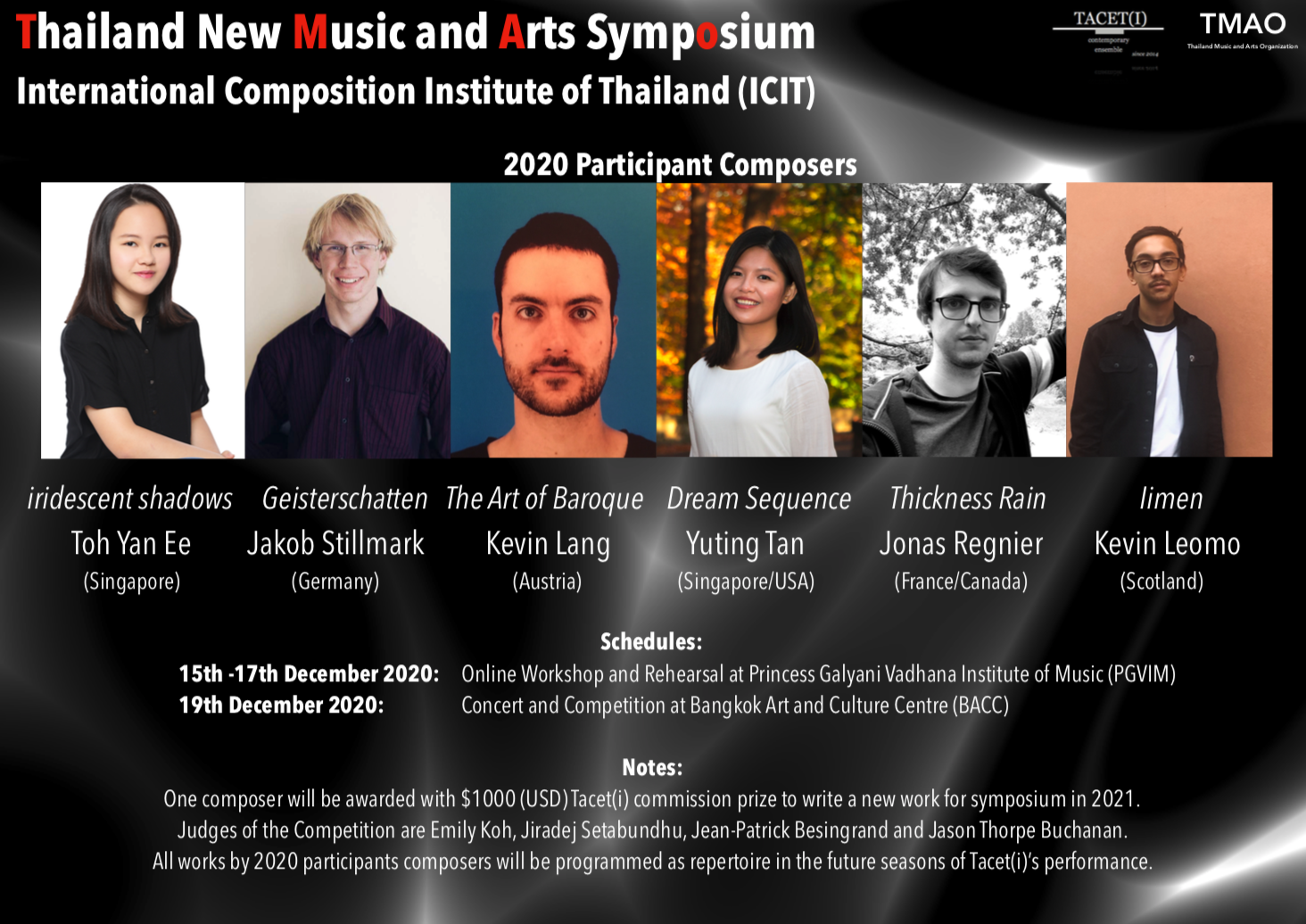 TNMAS Open Call Artists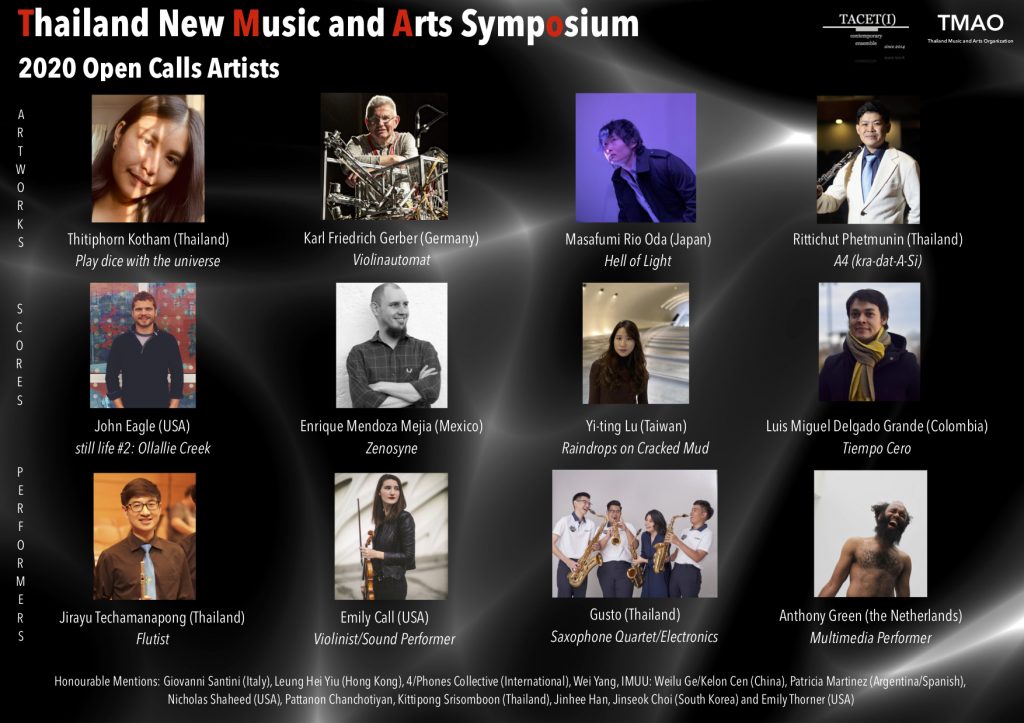 Apart from their individual performance, all 12 selected artists will join together to perform and collaborate with other artists in the symposium under the curation by our Co-Curator, AnoThai Nitibhon and director, Piyawat Louilarpprasert.
We are also would like to recommend honourable mention artists to name their highly artistic works which are including:
Giovanni Santini (Italy), Leung Hei Yiu (Hong Kong), 4/Phones Collective (International), Wei Yang (China), IMUU: Weilu Ge/Kelon Cen (China), Patricia, Martinez (Argentina/Spanish), Nicholas Shaheed (USA), Pattanon Chanchotiyan (Thailand), Kittipong Srisomboon (Thailand), Jinhee Han (South Korea), Jinseok Choi (South Korea), Emily Thorner (USA)
This year we received 248 submissions from 24 countries around the world. We are delighted to announce and congratulate 12 successful artists for the open call applications whose works will be performed and collaborated during the symposium 15 – 20 of December 2020 at Bangkok Art and Culture Centre (BACC).
Call for Artworks: 
Karl F. Gerber (Germany) – Violinautomat,
Thitiphorn Kotham (Thailand) – Play dice with the universe,
Masafumi Oda (Japan) – Hell of Light,
Rittichut Phetmunin (Thailand) – A4
Call for Scores:
Enrique Mendoza Mejía (Mexico) – Zenosyne,
Yi-Ting Lu (Taiwanese) – Raindrops on Cracked Mud,
Luis Miguel Delgado Grande (Colombia) – Tiempo Cero,
John Eagle – (USA) still life #2: Ollallie Creek
Call for Performers:
Anthony R. Green (the Netherlands) – multimedia performer,
Jirayu Techamanapong (Thailand) – flutist,
Emily Call (USA) – violinist/electronics,
Gusto Saxophone Quartet (Thailand) – Saxophone Quartet
Apart from our Open Calls and ICIT, TMAO is delighted to announce the new series of the 2020 TMAO young commissions for the future of Thai composers. TMAO would like to congratulate all 11 selected composers and looking forward to all of the adventurous TMAO events within this year.
Thanakarn Schofield, (Royal Conservatory of Den Haag Netherlands), Chudalux Pinan, (Chandrakasem Rajabhat University), Jirath Patpradit and Sompong Panthong (Bansomdejchaopraya Rajabhat University), Viskamol Chaiwanichsiri, Anak Baiharn, Chawin Temsittichok, Waris Sukontapatipark (College of Music, Mahidol University), Thunpasut Praphannkeetasilp Kleebsamut (Nakhon Si Thammarat Rajabhat University), Mahakit Mahaniranon (Rangsit University), Pongtorn Techaboonakho (Princess Galyani Vadhana Institute of Music).
All commissioned composers are supported by the Thailand Music and Arts Organization (TMAO) and TACETi Ensemble, under the curation of Piyawat Louilarpprasert (Director) and AnoThai Nitibhon (Co-Curator).
Young Composer Commissions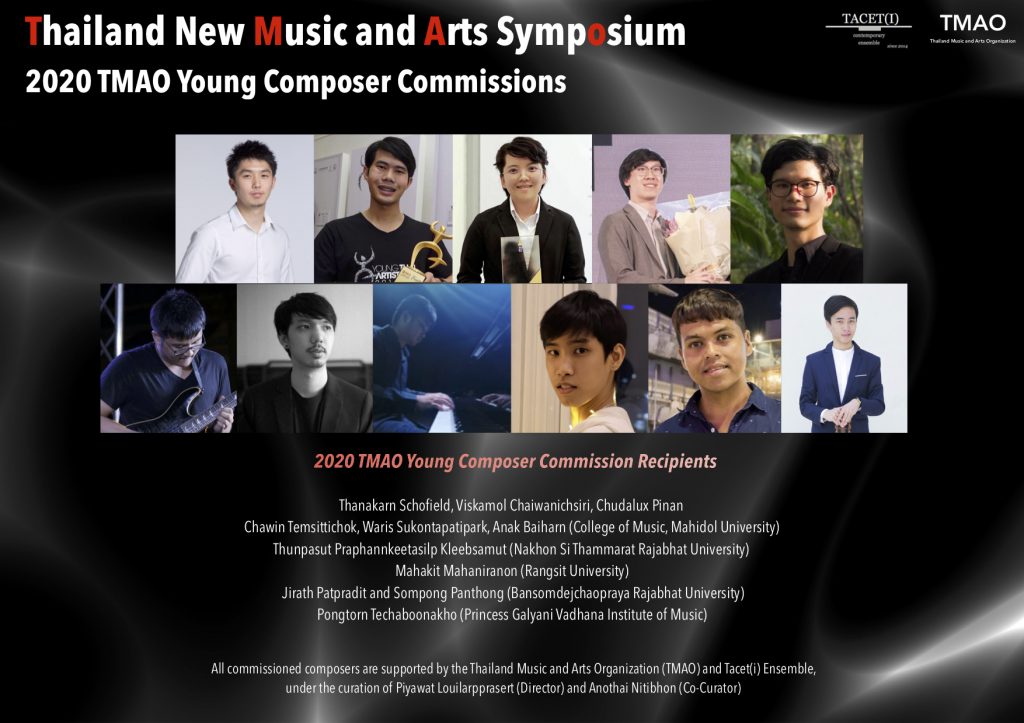 ICIT 2020 Composers and Artists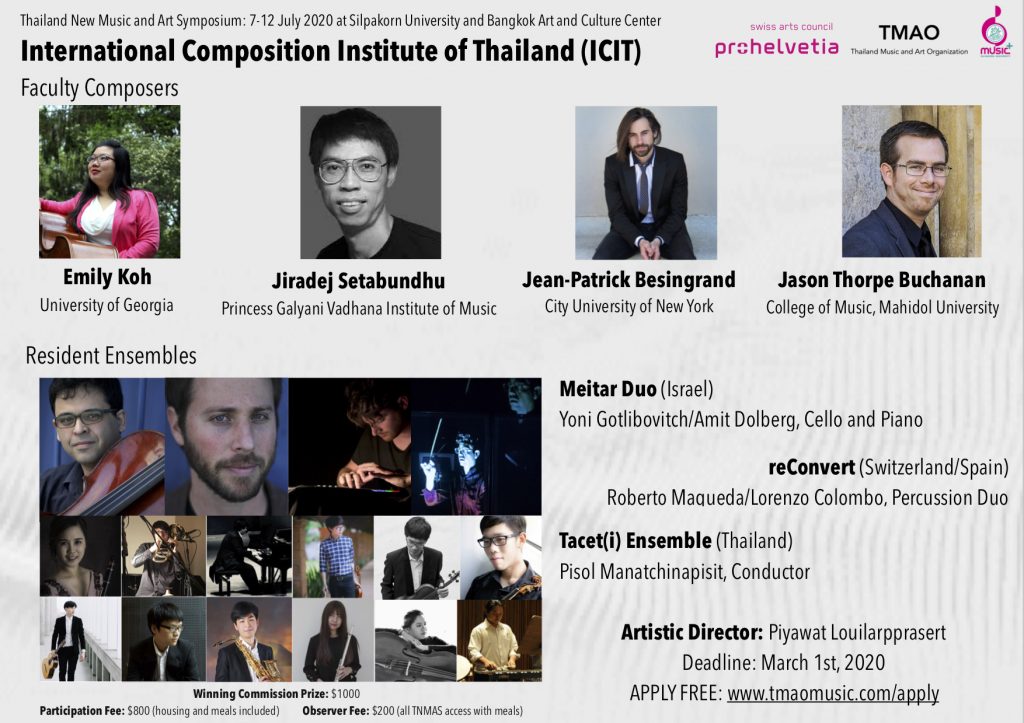 We are so happy to have Meitar Ensemble Duo (Israel), reConvert (Switzerland) and TACETi (Thailand)as resident ensembles along with faculty composers Emily Koh (Singapore/USA), Jiradej Setabundhu (Thailand), Jason Thorpe Buchanan (Thailand/USA) and Jean-Patrick Besingrand (France/USA) to give such a big opportunity of the intensive project for participant composers.
TNMAS 2019: Beyond Boundaries