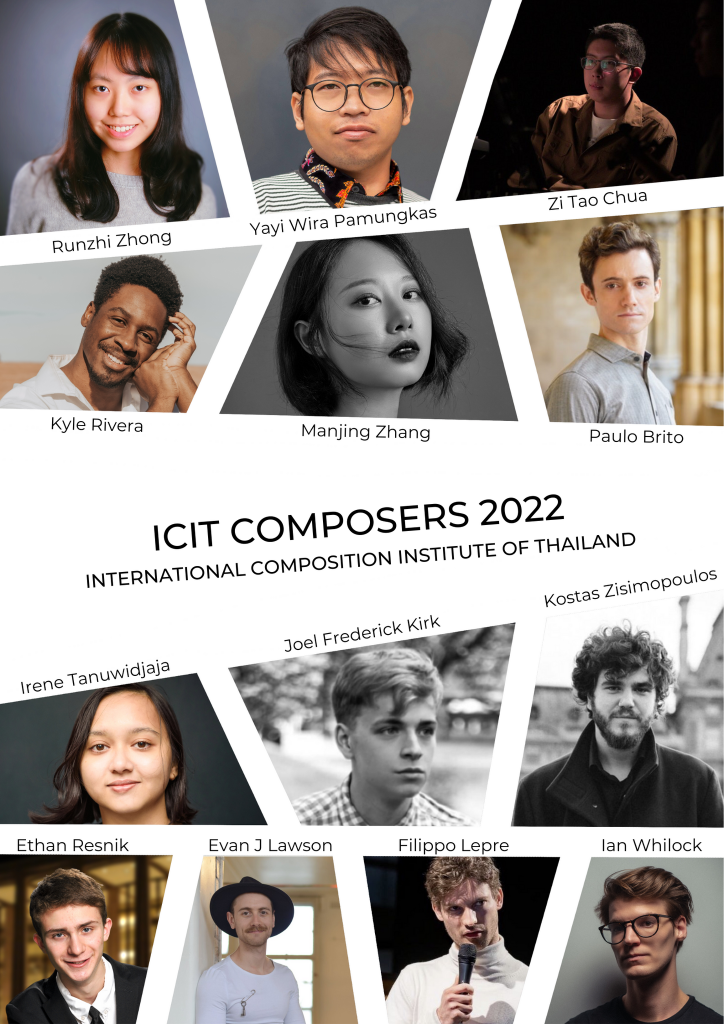 We would like to give a warm welcome and congratulate the 13 fellow composers for the International Composition Institute of Thailand:
Paulo Brito (Brazil/USA)
Irene Tanuwidjaja (Indonesia)
Ethan Resnik (USA)
Evan J Lawson (Australia)
Filippo Lepre (Italy)
Manjing Zhang (China)
Joel Frederick Kirk (United Kingdom)
Chua Zi Tao (Singapore)
Kyle Rivera (USA)
Runzhi Zhong (China)
Ian Whillock (USA)
Kostas Zisimopoulos (Greece)
Yayi Wira Pamungkas (Indonesia)
The 13 composers will work closely with our ICIT 2022 faculty artists. Ultimately, their new pieces will be given world premieres by TACETi ensemble at IntAct, Bangkok Arts and Culture Centre, December 22nd, 2022. The total applications this year were 129 submissions from 18 countries. This selection of composers is such a huge success. We also would like to thank you for all the application and we hope to welcome more applications once again in our next edition. Please stay tuned for their new works this year!