International Composition Institute of Thailand 2021 (ICIT)
International Composition Institute of Thailand (ICIT) is an intensive and unique experience for young composers around the world to experiment their own sonic and conceptual ideas with highly artistic performers, ensembles and participate in in-depth sessions with professional contemporary living mentors/composers. The ICIT will be held in December 13th - 17th, 2021 with the partnership of Bangkok Art and Culture Centre (BACC). Moreover, the selected works of participants will be premiered in public concert during December 17th - 20th, 2021 at the Thailand New Music and Arts Symposium (TNMAS 2021). The mentor composers are including Jason Thorpe Buchanan (USA/Thailand), Sergio Cote (Colombia/USA), Anothai Nitibhon (Thailand), Emily Koh (USA/Singapore) and Narong Prangcharoen (USA/Thailand).
Application Deadline: July 15th 2021
Application Fee: Free
Prize: The winner will receive $1000 USD as well as a commission for the next ICIT and TNMAS 2022
Participants Fee (ONLINE): 650 USD (including lessons, lectures, rehearsal times, concert performance and professional documentation of recordings and videos)
*Case of in-person: In case the travel is possible, we can offer foods, single room-accommodation, access to the symposium and 1-day sightseeing ticket in Thailand (13 – 20th December, 2021). This will cost additional fees for $250. This is optional, participants are free to decide.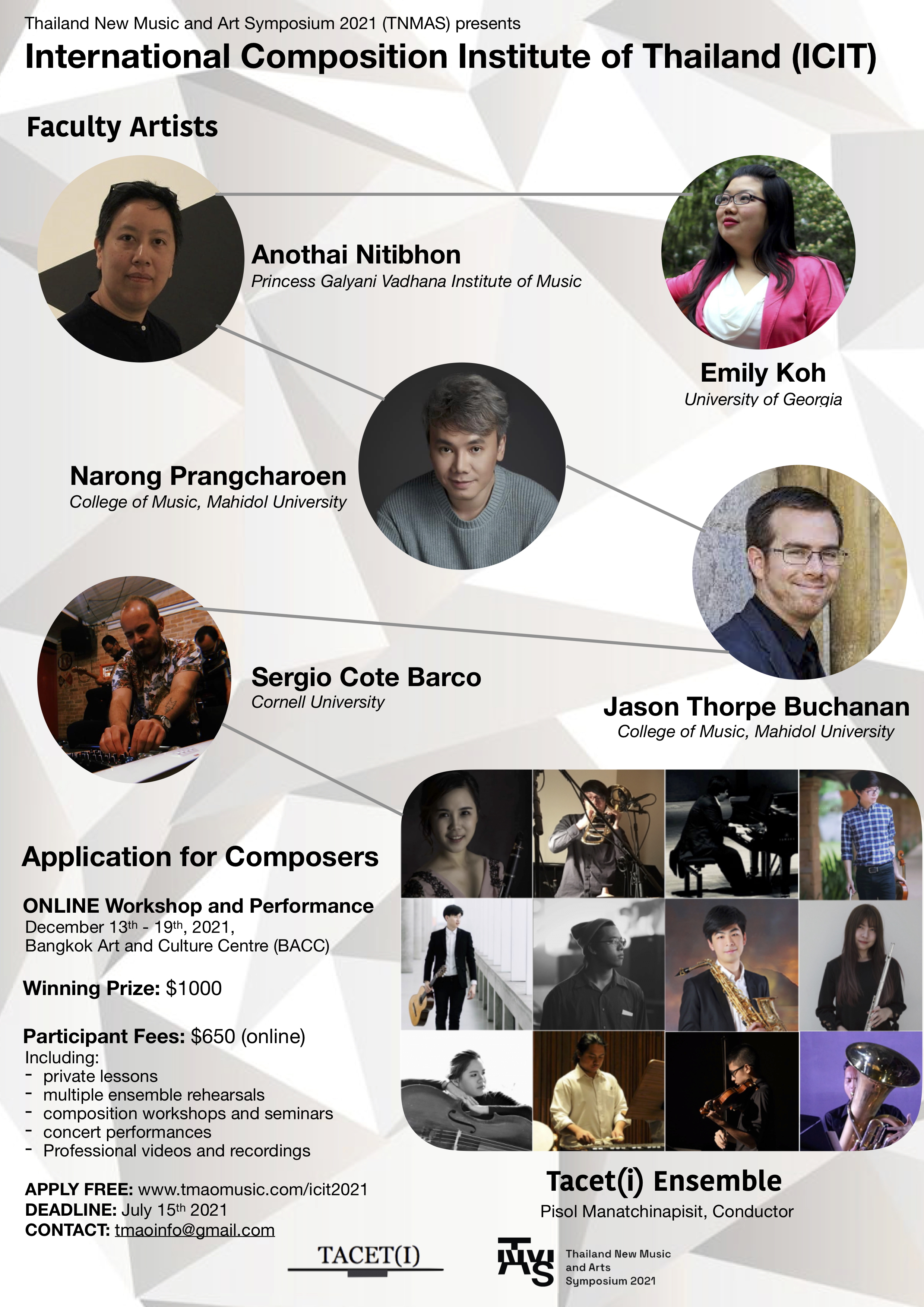 General Information
**The Institute will provide an invitation letter for participants to apply their own individual grants for support.
**The institute will offer 8 - 10 international composers regardless of nationalities to participate in activities including:
1) Multiple rehearsals of their works with residence ensembles Tacet(i) (Thailand)
2) two intensive one to one lesson and five group coaching with faculty composers
3) Public music presentations and seminars of participants
4) Premiere of each participant's works in a public concert at the Bangkok Art and Culture Center (BACC)
5) one composer will be awarded $1000 as Tacet(i) Commissioning Prize 2022
6) After the premiere, Tacet(i) ensemble will consider pieces as ensemble repertoire and/or to be performed in the Thailand New Music and Art Symposium (TNMAS) and future performances
7) Participants will also receive professional recordings of the concerts as well as certificates and documentation
8) All selected composers will receive the certificate of awards and participations
Application Requirements
ICIT is finding young composers under 35 years old from around the world regardless of nationality.
1) 2 pages of CV/Resume and 1 recent photo as well as biography (200 words)
2) 2 scores of recent works of any instrumentations and styles. One of the submission scores could be a piece for the workshop and concert as well (Optional).
3) recording is not required but appreciated (both scores and recording could be uploaded in any online or downloadable links)
Selected Participants Schedule
Selected Participants Schedule
July 15th                      deadline is closed.
Late July                      selected applicants will receive emails to accept the place.
August 15th                      deadline for confirmed selected applicants and to transfer first instalment ($300) via paypal
October 1st                  deadline to transfer second instalment ($350) via paypal
October 15th                deadline for a score and parts (1 – 8 performers, 5 – 8 minutes piece)
December 13th - 15th    intensive daily rehearsals, presentations, seminars, lessons and workshops
December 16th             Dress Rehearsal
December 17th - 19th    public concert at Bangkok Art and Culture Center (BACC)
***In case the travel is possible, we will provide an additional schedule for your arrival-departure.
Tacet(i) instrumentation:
Flute,
Clarinet,
Saxophone,
Trombone,
Tuba,
Guitar (acoustic and electric),
Keyboard/Synthesizer,
2 Violins,
Viola,
Cello,
Electronics/ DJ
Percussion: available instruments vibraphone, drum set, snare, bongos and Tam-tam. D.I.Y. and other small instruments are available upon request. We are not offering large instruments e.g. timpani, xylophone, marimba, chimes etc.
ICIT Activities
Faculty Composition Workshops: Mentor composers share ideas and thoughts about their music to participants.
Participant Composer Seminars: Participants will give 30 minutes presentation of their music, mentor will comment and discuss.
Individual lessons: Participants will receive 2 lessons and work closely with faculty artists
Ensemble Workshop and Rehearsal: Resident ensemble will lead multiple rehearsal with thoughts on compositions for each participant intensively as well as faculty composers will give guidance and comments.
Special Talks: special topics by mentors, guests and ensembles