International Composition Institute of Thailand 2023 (ICIT)
International Composition Institute of Thailand (ICIT) is an intensive and unique experience for young composers around the world to experiment their own sonic and conceptual ideas with highly artistic performers, ensembles and participate in in-depth sessions with professional contemporary living mentors/composers. The ICIT will be held on December 18th - 24th, 2023 with the partnership of Bangkok Art and Culture Centre (BACC). Moreover, the selected works of participants will be premiered in a public concert during December 21st - 24th, 2023 at the IntAct Festival. This year the faculty composers are including Jason Thorpe Buchanan (USA/Germany), Anothai Nitibhon (Thailand) Emily Koh (USA/Singapore) Scott Wilson (UK/Canada) Narong Prangcharoen (Thailand) Jiradej Setabundhu (Thailand) Piyawat Louilarpprasert (Thailand/USA)
(no cost to apply!)
Application Deadline: July 15th 2023
Prize: The winner will receive $1,500 USD as well as a commission for the next ICIT and IntAct 2024
Participants Fee: $1,050 USD (including lessons, lectures, rehearsal times, concert performance and professional documentation of recordings and videos)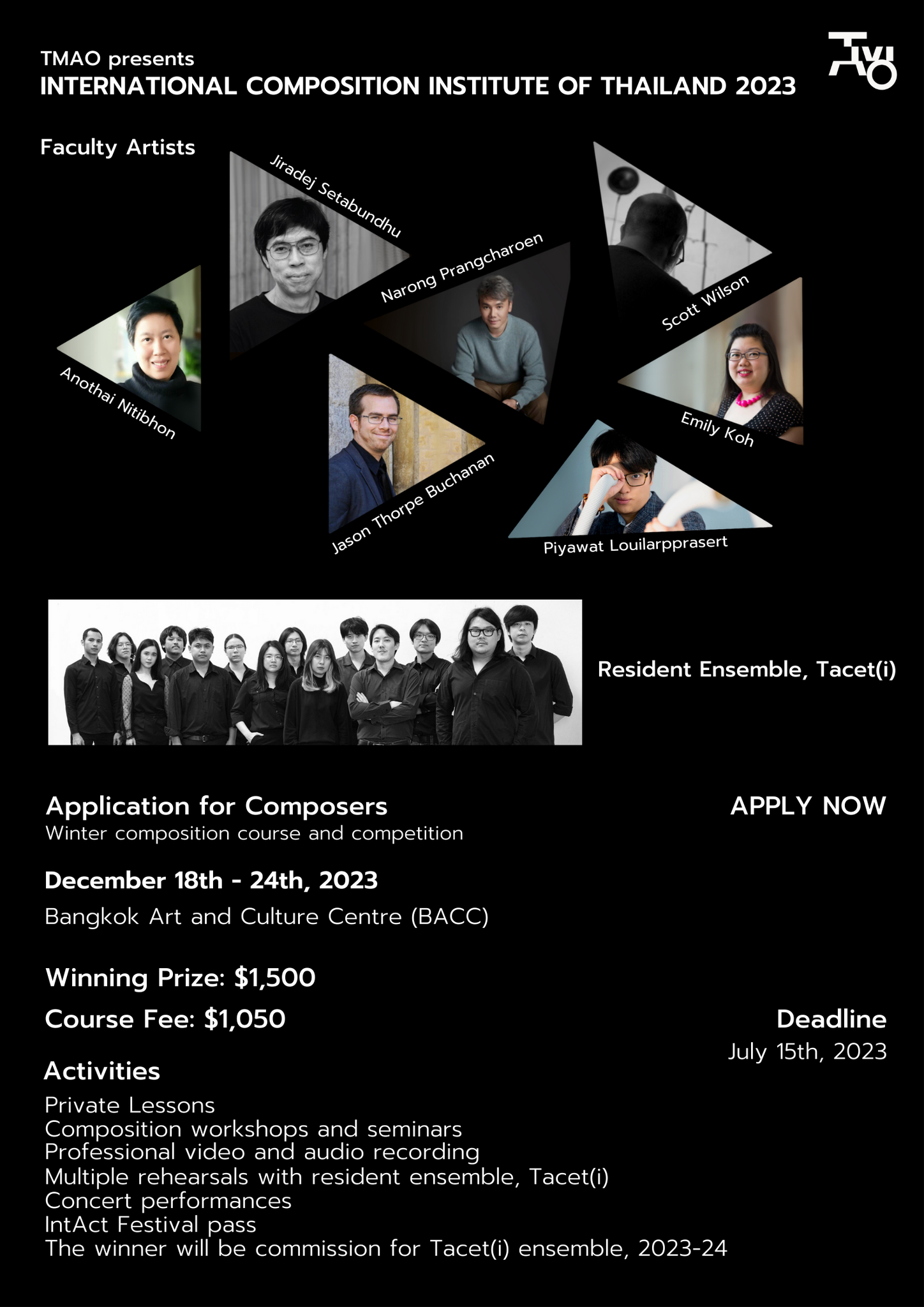 General Information and ICIT Activities
*The Institute will provide an invitation letter for participants to apply for their own individual grants for support.
**The institute will offer a group of international composers regardless of nationalities to participate in activities including:
1) Ensemble Workshop and Rehearsal: The resident ensemble Tacet(i) will lead multiple rehearsals with thoughts on compositions for each participant intensively as well as faculty composers will give guidance and comments.
2) Individual Lessons: Participants will receive 2 lessons and work closely with two of the seven faculty composers (your choice)
3) Faculty Composition Workshops: Mentor composers will give presentation and share ideas within a group discussion for all participants.
4) Special Talks: special topics of presentation will be given by guest artists of 2023
5) Concert and Premiere: All participants' works will be performed by the resident ensemble in a public concert at the Bangkok Art and Culture Center (BACC)
6) Commission Prize: one composer will be awarded $1500 as Tacet(i) Commissioning Prize 2024
7) Additional: After the premiere, Tacet(i) ensemble will consider pieces as ensemble repertoire and/or to be performed in the Int-Act Festival and future performances
8) Recording and Documentation: Participants will receive professional recordings of the concerts as well as video documentation
9) Award Ceremony: All selected composers will receive the certificate of awards and participations
Application Requirements
ICIT is finding composers with all ages from around the world regardless of nationality.
Require documents
1. Biography (maximum 200 words) in pdf format
2. CV (maximun 2 pages, A4) in pdf format
3. Recent photo
4. Recent works: Please submit two scores of your recent works in any instrumentations and styles. However, one the score that you wish to submit could be a piece for the workshop and concert as well (optional).
5. Recording (Optional)
Important note
Please attached all materials in a google drive or any downloable link.
Please provide the link to the google drive or any downloable link in the answer field below and make sure that the submitted link is accessible.
The link that is not contain all require materials (Biography, CV, Recent Photo and Recent Works) will not pass to the evaluation process.
Selected Participants Schedule
Selected Participants Schedule
July 15th                    deadline is closed.
Late July                    selected applicants will receive emails to accept the place.
August 15th              deadline for confirmed selected applicants and to transfer first instalment ($550) via Paypal
October 1st               deadline to transfer second instalment ($500) via paypal
October 15th            deadline for a score and parts (up to 6 performers, 7 minutes maximum)
Tacet(i) instrumentation:
Flute
Clarinet
Saxophone
Trombone
Guitar (acoustic and electric)
Keyboard/Synthesizer (no piano)
Violin
Viola
Cello
Percussion
Electronics/ DJ
 ***percussion: standard instruments are including vibraphone, drum set, snare, bass drum, cymbals bongos and Tam-tam. D.I.Y. and other small instruments are welcome for request. We are not offering large instruments (e.g. timpani, xylophone, marimba, chimes etc.).
*The selected participants will propose four different instrumentation-formats. the ensemble will choose accordingly to fit with the concert program.