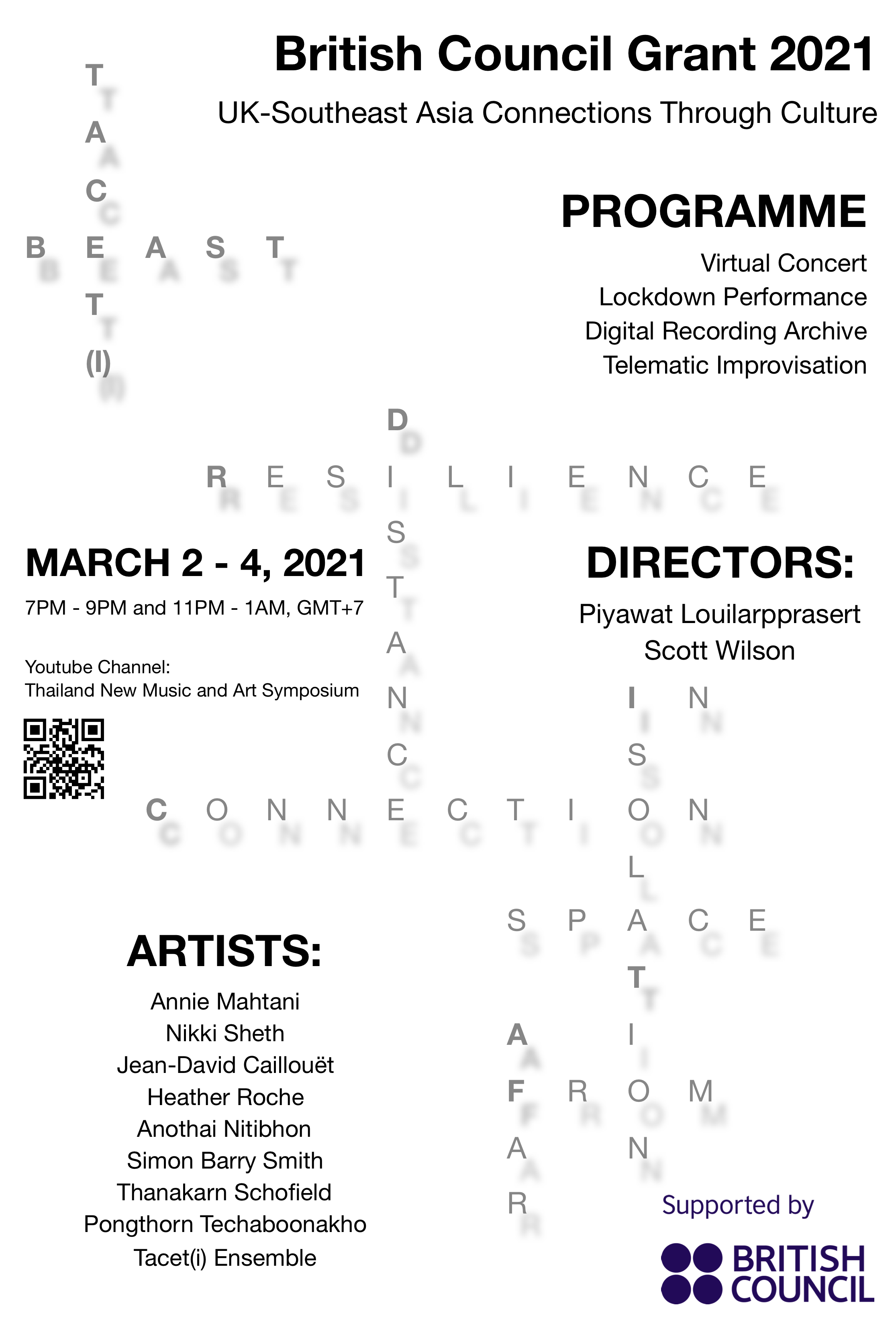 British Council Grant 2021: "Resilience, Distance, Connection in Isolation, Space from Afar"
"Resilience, Distance, Connection in Isolation, Space from Afar"
The pandemic has led us to reconsider the future of art and procedures of artistic creation. The pursuit of resilience through online networking, now and in an increasingly digital future, will create the durability that we need to broaden not only the possibilities of technology and the arts but also the development of cultures and communities in Southeast Asia and the UK.
This project is leading by two main artists between United Kingdom and Thailand, Dr. Scott Wilson and Piyawat Louilarpprasert with support by the British Council Grant 2021: UK-Southeast Asia Connections Through Culture. The project aims to exchange local and mutual knowledge of music with the theme: "Resilience, Distance, Connection in Isolation, Space from Afar". With the missing presence of artistic creativities during the pandemic situation, we will build on existing relationships, and introduce younger artists to this network of connections.
March 2 – 4, 2021, 7-9PM and 11PM - 1AM (GMT+7)
6 performances: virtual concerts, lockdown performances, digital recording archives and the telematic improvisation.
featured artists: Annie Mahtani, Nikki Sheth, Jean-David Caillouët, Heather Roche, Anothai Nitibhon, Simon Barry Smith, Thanakarn Schofield, Pongthorn Techaboonakho and the Tacet(i) Ensemble.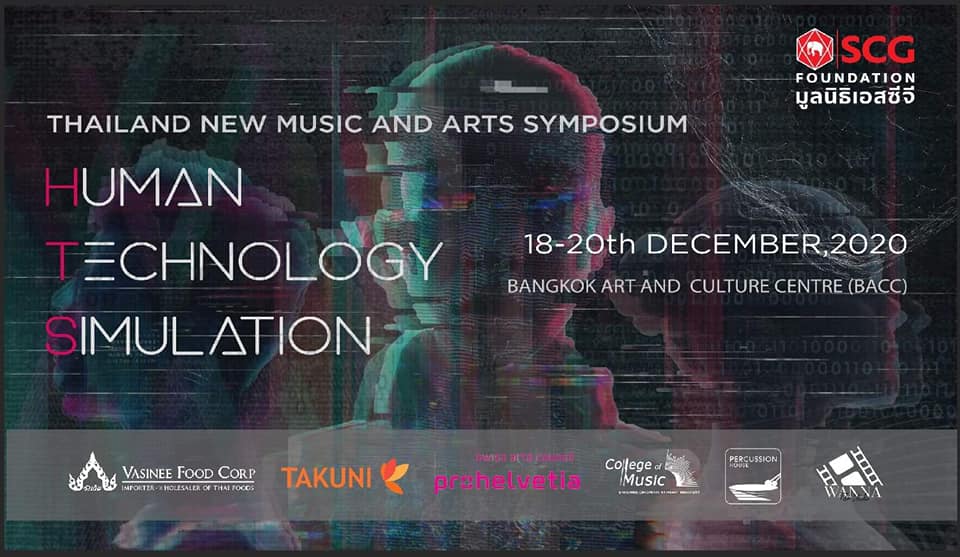 Human, Technology and Simulation, Thailand New Music and Arts Symposium 2020
Thailand Music and Arts Organization presents Thailand New Music and Art Symposium 2020 with the theme Human, Technology and Simulation
With partnerships: reConvert Duo (Switzerland), Meitar ensemble (Israel)and Tacet(i)(Thailand), Silpakorn University and Princess Galyani Vadhana Institute of Music and Bangkok Art and Culture Center (BACC)
Programs: International Composition Institute of Thailand (ICIT) July 7th - 12th, 2020 Thailand New Music and Art Symposium Open Calls July 10th - 12th, 2020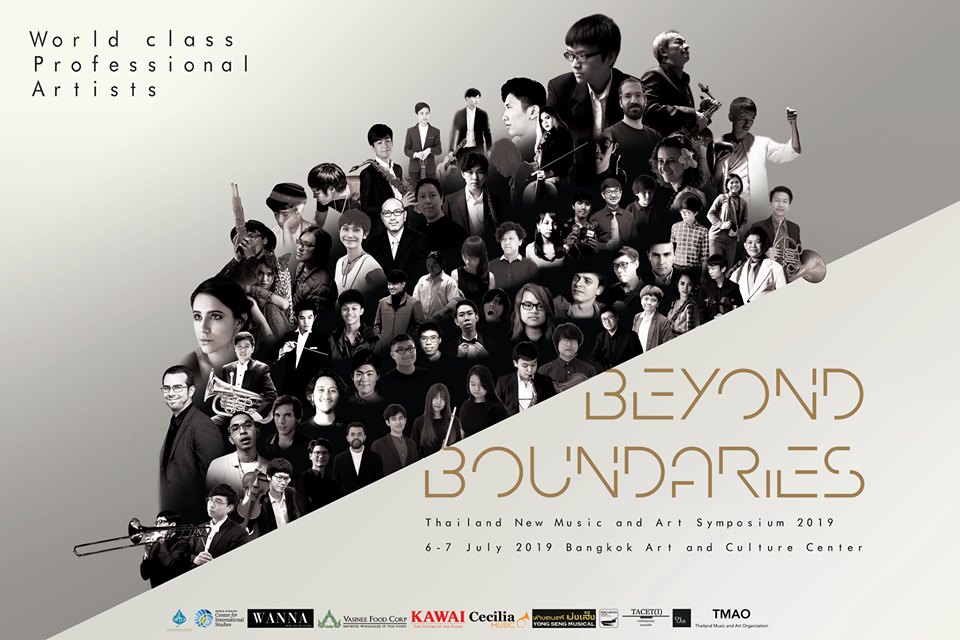 "Beyond the Boundaries", new music for the 21st century, Thailand New Music and Arts Symposium 2019
6 – 7 July 2019, Bangkok Arts and Culture Center
with the collaboration with Ensemble Laboratory and Thailand Music and Art Organization (TMAO)
Activities:
1. call for young local and international applicants (to be announced)
2. workshop for local and international musicians and composers
3. lectures on contemporary classical music, electronic music, experimental music and sound installation techniques by international and local artists from around the world
4. art exhibition by selected artists
5. 2 evening concerts at Bangkok Arts and Cultural Center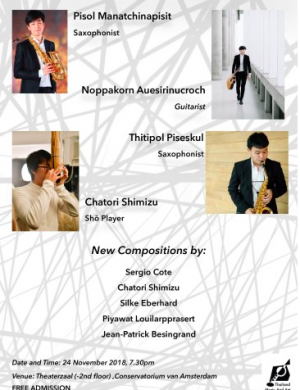 New Music for Saxophone, Guitar and Shō at Conservatorium van Amsterdam November 24, 2018
Performers:
Pisol Manatchinapisit (saxophone), Noppakorn Auesirinucroch (guitar), Chatori Shimizu (shō)
Description:
Collaborative concert with Ensemble tacet(i) and Tesselat Composer Collective
Programme:
"Translucent for solo guitar, Chatori Shimizu (b.1990)"
"Izanami for solo saxophone, Jean-Patrick Besingrand (b.1985)"
"Play Your Sin in Hell for sax neck with tube and guitar, Piyawat Louilarpprasert (b.1993)"
"All breathing is circular, all breating is sound II for solo saxophone, Sergio Cote (b.1987)"
"Hallimasch for solo shō, Silke Eberhart (b.1972)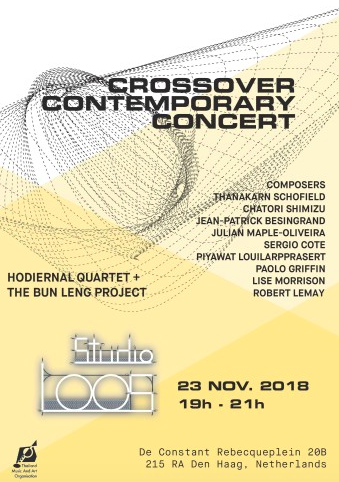 Crossover Contemporary Concert in Den Haag at Studio Loos November 23, 2018
Performers:
Hodiernal Quartet:- Orestis Willemen (elc guitar), Belemir Baran (violin), Adam Hall (cello), Cody takacs (double bass)
Bun Leng  Project:- Guillermo Presa (saxophone), Wisuwat Pruksavanich (saxophone), Thitipol Pisekul (saxophone), Neus Estarellas (piano)
Description:
Collaborative concert with Den Haag composers and Tesselat Composer Collective
Programme:
"Crash!!! for voice and electronics, Julian Maple-Oliveora (b.1993)"
"Desirs Inassouvis for saxophone duets, Jean-Patrick Besingrand (b.1985)"
"Vermilingua for saxophone solo, Sergio Cote (b.1987)"
"Gelt, Rot, Blau… hommage à Wassily Kandinsky for trio, Robert Lemay (b.1960)"
"Tiktatikatok for trio, Piyawat Louilarpprasert (b.1993)"
"Red Thread for string quartet, Thanakarn Schofield (b.1993)"
"Babyman for string quartet, Chatori Shimizu (b.1990)"
"L'esprit de l'escalier for string quartet, Lise Morrison (1988)"
"Liminal Luminosity for string quartet, Paolo Griffin (b.1991)"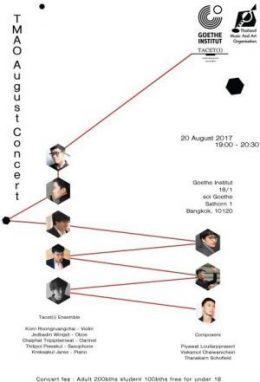 Tacet(i) and TMAO Concert in Bangkok at Goethe Institute, Bangkok, August 20, 2017
"Composers x Performers x Collaboration"
Performers:
Korn Roongruangchai (violin), Chaiphat Tripipitsiriwat (clarinet), Thitipol Piseskul (saxophone), Kreksakul Jaree (piano)
Composers: 
Piyawat Louilarpprasert, Visakamol Chaivanichsiri and Thanakarn Schofield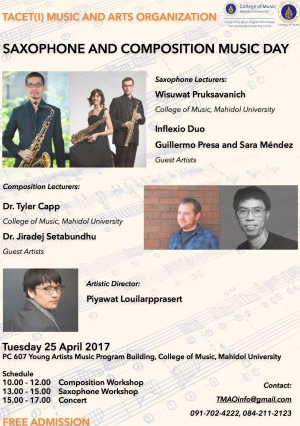 Saxophone and Composition Music Day at College of Music, Mahidol University April 25, 2017
Description:
Collaborative workshop and masterclass for young saxophonists and composition students with lecturer from Royal College of Music, Mahidol University, PGVIM and TMAO's Artistic Director Piyawat Louilarpprasert
Saxophone Lecturers:
Wisuwat Pruksavanich (College of Music, Mahidol University)
Guillermo Presa (Royal College of Music)
Sara Méndez Arias (Royal College of Music)
Composition Lecturers:
Dr. Tyler Capp (College of Music, Mahidol University)
Dr. Jiradej Setabundhu (PGVIM)
Piyawat Louilarppraset (TMAO)
March 9th, 2017, TMAO and Inflexio Duo: The Saxophone Concert at St. Mary-at-Hill Church, London
Description:
Collaborative Concerts Royal College of Music X Royal Academy of Music
Performers:
Inflexio Duo:- Guillermo Presa, Sara Mendez Arias
Programs:
Dialogue(s) II "Fire Balls" for Soprano and Alto Saxophones, Piyawat Louilarpprasert
[blrrd] [AaGgEeSs] for Tenor and Baritone Saxophones, Nathanael Gubler
Scalar for Alto and Baritone Saxophones, Thanakarn Schofield
Growth Models for two performers playing Soprano, Alto, Tenor and Baritone Saxophones, -
Chen- Yang Xu
The Light of the Trees for Saxophone Quartet, Robert Laidlow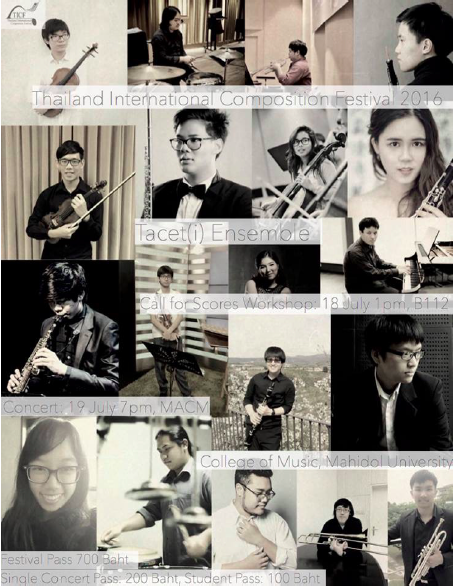 July 19th, 2016, Thailand International Composition Festival 2016, College of Music - Mahidol University, Salaya
Concert: 19 July 7pm – 9 pm
Programs: (Call for Scores Winners)
Tanapon Chiwinpiti, (ugoki+alg.-e) 動き+alq.絵 for 6 musicians with amplified
Yootapong Piyachan, No Awesome for flute and violin
Attakorn Sookjaeng, Flashback for pierrot ensemble
Thanakarn Henry Schofield, Narcissus for oboe, percussion, and piano
Ophat Taerattanachai, Tristesses de la Lune for baritone and pierrot ensemble
Wiwat Suthiyam, Act Abstract for 10 instruments and 1 actor
Piyawat Louilarpprasert, Surrounding Obsession for ensemble and multimedia
Siraseth Pantura-umporn, Weaving for 6 musicians
John Melcher, Kangaroo for flute, oboe, bass clarinet, saxophone, and piano
Narongrit Dhamabutra, The Quintet for the Spirits of ASEAN for Piano Quintet
Performers:
Sanook Boonpan, flute
Jedbadin Winijsit, oboe
Pisol Manatchinapisit, saxophone
Chaiphat Tripipitsiriwat, Christhatai Paksamai, clarinet
Wasawat Phayakkakul, Nitiphum Bamrungbanthum, trumpet
Siravith Kongbandalsuk, trombone
Kantapong Rakbankerd, Chaiyaphat Prempree, percussion
Varissara Tanakom, Korn Roongruangchai, violin
Tapanatt Kiatpaibulkit, Saksilpa Srisuksorn, viola
Roypim Thavornsuwan, violoncello
Phasin Taesuwan, double bass
Kerksakul Jaree, piano
Chayanit Buasup, soprano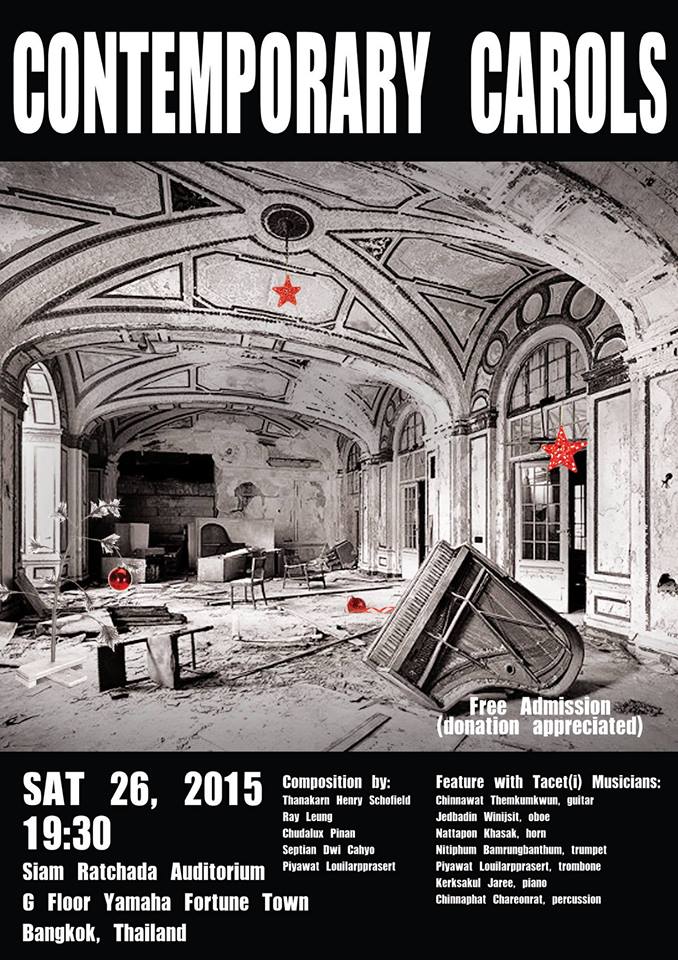 December 26th, 2015, TMAO: Solo Concert "Contemporary Carols, Siam Ratchada Auditorium, G Floor Yamaha Fortune Town, Bangkok, Thailand
Programs:
Viskamol Chaivanichsiri, "oboe solo"
Chudalux Pinan, "Horn Solo" for horn solo
Kanokpak C., "saxophone solo"
Ray Leung, "trombone solo"
Piyawat Louilarpprasert "guitar solo"
Tanapon Chiwinpiti "snare drum / electronics solo"
Septian Dwi Cahyo "trumpet solo"
Piyawat Louilarpprasert "piano solo"
Performers:
Chinnawat Themkumkwun, guitar
Jedbadin Winijsit, oboe
Nattapon Khasak, horn
Nitiphum Bamrungbanthum, trumpet
Piyawat Louilarpprasert, trombone
Kerksakul Jaree, piano
Chinnapat Charoenrat, percussion

August 20th, 2015, TMAO Concert: "Sound Check" in Bangkok at Goethe Institute
Descriptions:
Taceti Collaboration – Multimedia/Electronics – Surrounding Obsession
Performers:
Sanook Boonpan, flute
Jedbadin Winijsit, oboe
Pisol Manatchinapisit, Thitipol Piseskul, saxophone
Chaiphat Tripipitsiriwat, clarinet
Nitiphum Bamrungbanthum, trumpet
Siravith Kongbandalsuk, trombone
Kantapong Rakbankerd, Chaiyaphat Prempree, percussion
Varissara Tanakom, Korn Roongruangchai, violin
Tapanatt Kiatpaibulkit, viola
Roypim Thavornsuwan, violoncello
Phasin Taesuwan, double bass
Kerksakul Jaree, piano
Piyawat Louilarpprasert, director
July 19th, 2015, Thailand International Composition Festival 2015, Tacet(i) Program in TICF, Young Thai Composer Concert, College of Music - Mahidol University, Salaya
Descriptions:
Tacet(i) Program in TICF, Young-Thai Composer Concert
Programs:
Natya, Poumpak Charuprakorn
Lumiere-et-Iespace, Wiwat Suthiyam
Morning Rush, Ophat Taerattanachai
Hidden Voices, Nantpipat Vutthisak
Narcissus, Morakot Cherdchoo-ngarm
Septet no.2, Kitti Kuremanee
FM, Woodtipon Phumcokluc
Portrait of the Three Temples, Narongrit Dhamabutra
The Spirit of Dead Cow, Thatchatham Silsupan
Performers:
Sanook Boonpan and Praewa Chumsilpsiri, flute
Jedbadin Winijsit, oboe
Phuket Areesamarn , Noppavee Aree and Jompob Suraphat, clarinet
Kitsada Chairattanasak, saxophone
Korn Roongruangchai, Saksilpa Srisuksorn and Varissara Tanakom, violin
Tapanatt Kiatpaibullkit, viola
Teerakiat Kerdlarp and Roypim Thavornsuwan, violoncello
Phasin Taesuwan, double bass
Kerksakul Jaree, piano
Teeraboon Paisarn and Kantapong Rakbankerd, percussion
Polyiam Palitponganpim, violin
Tanutt Tanavoravongsa and Pinpinut Sribumrungkiat, viola
Guntiga Comenaphatt, violoncello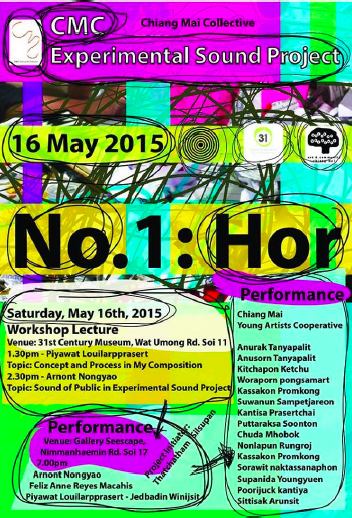 May 16th, 2015, CMC Experimental Sound Project: No.1 "Hor", at Chiangmai
Description:
Tacet(i) musicians were invited to perform experimental music and improvisation alongside with
curator, Thatchatham Silsupan, Anont Nongyao and Nut Sawassdee
performers:
Jedbadin Winijsit, oboe
Wasawat Phayakul, trumpet
Pitikiat J., trombone
Piyawat Louilarpprasert, electronics