TMAO Music Director/ Int-Act Director
Thai-born guitarist, Noppakorn Auesirinucroch attended the Pre-College program in classical guitar performance at the College of Music, Mahidol University, Thailand under the tutorage of Kiatkong Subhayon. During his studies, he participated and performed in several prestigious competitions and music festivals in European and Asian, namely The Netherlands, Belgium, Indonesia, Malaysia, Japan and Thailand. Noppakorn received several awards and recognitions inculding, 1st prize in Junior Category at Thailand International Guitar Competition 2012 (Bangkok), 1st prize in Junior Category at Asia International Guitar Festival 2013 (Bangkok), 1st prize in Junior Category at Indonesia International Guitar Festival 2013 (Jakarta), and 1st prize in Junior Category at Tarrega International Guitar Festival 2014 (Kuala Lumpur).
Other than instrumental solo achievements, he actively participated in various collaborative projects. For instance, he was honourably selected to perform in Kurt Weill's Opera "The Seven Deadly Sins" in the positions of a guitarist and banjo player, working with Dutch star soprano EvaMaria Westbroek at National Opera & Ballet, Amsterdam, The Netherlands. He obtained his B.M. and M.M. in the major of classical guitar performance at Koninklijk Conservatorium, The Hague, The Netherlands, where he studied with Professor Enno Voorhorst. He was awarded with "Fund for Excellence", the full scholarship for the best Master's candidates for his M.M. in classical guitar performance at Koninklijk Conservatorium, The Hague, under the guidance of Professor Zoran Dukic. He received the absolute highest mark with distinction for his master final presentation. Noppakorn had also studied and working with world-known classical guitarists, including Roland Dyens, Costas Cotsiolis, Raphaella Smiths, Xuefei Yang, Aniello Desiderio and Duo Melis. Apart from the classical side, he also interests and dedicates himself to contemporary music, in which he explores several musical ideas for his performance, such as sound, time, space, multi-sonic cultures, and cross-modal relations.
Recently, Noppakorn conducts research on the topic of "Multi- sensory sonic experiences" in cooperating with the external mentor, Charles Michel, a former chef in residence at the Experimental Psychology Department, Oxford University. His research received an outstanding recognition, and it was selected to publish for a public at Research Catalogue. Currently, he works as a part-time guitar instructor at College of Music, Mahidol University, as well as a guitarist of the Tacet(i) ensemble and organizing music events across South-East Asia, East Asia, Europe, and The U.S. under the name of Thailand New Music and Art Organization, and Southeast Asia New Music and Arts Foundation. Recently he is serving as the music director of Thailand New Music and Art Organization and the director of Int-Act Festival.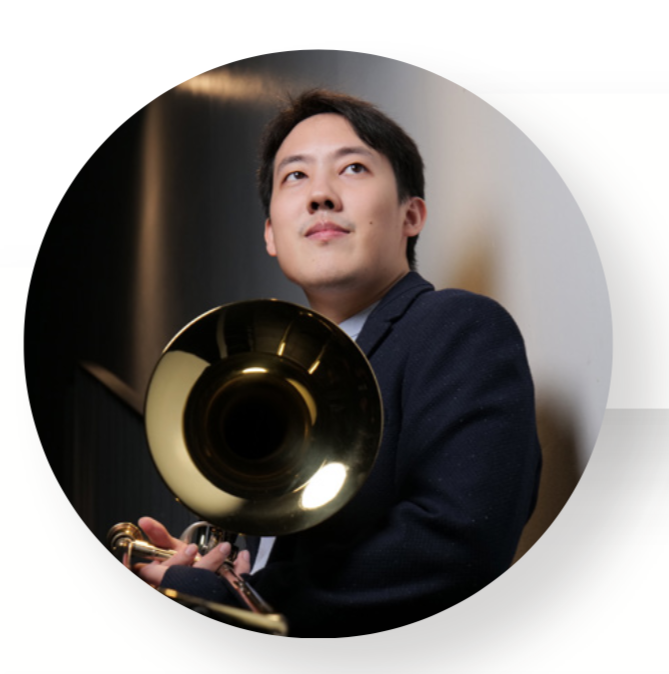 Thai trombonist, Siravith Kongbandalsuk was awarded and participated in several international music competition such as Brass and Percussion Seminar and Solo competition 2013 (Thailand) , Svirel International Music Competition 2016 (Slovenia), Ian Bousfield tenor trombone competition 2017 organized by British Trombone Society (UK), and more. His musical performance explores beyond the realm of classical and contemporary music practices which including: interdisciplinary, theatrical practice, telematic, and interactive multimedia performances.
Siravith has been a member and performed with many ensembles such as Bandung Philharmonic Orchestra, Thailand Philharmonic Orchestra, Netherlands Youth Orchestra (NJO), Nederland Student Orchestra (NSO), Princess Galyani Vadhana Youth Orchestra, Siam Sinfonietta and Southeast Asian Wind Ensemble, Million Wind Philharmonic, Limburg trombone ensemble, QuarterBone Trombone quartet, and the Tacet(i) Ensemble which he has been its member since the ensemble was founded in 2014. He was also invited to perform in the international music festival including: Asian Composer League, Kultur Kontakt Austria, Tokyo Media Interaction, and Thailand International Composition festival.
Siravith obtained a Bachelor's degree in classical trombone performance at College of Music, Mahidol University, Thailand under the mentorship with Philip Brink from 2010 – 2014, and a Master's degree in music performance at Conservatorium Maastricht, Netherlands where he studied with Bart Claessens from 2015 – 2017. Siravith is a full-time lecturer at the Princess Galyani Vadhana Institute of Music in Bangkok. Currently, he is serving as a co-music director of Thailand Music and Art Organization, and the co-director of Thailand New Music and Arts Symposium 2021.
"the rebel Thai composer taking music to unheard heights" (CNN News World)
Originally from Bangkok, currently based in New York, Piyawat Louilarpprasert is a composer who works with the interweave of music composition, visual art and technology. Piyawat has been awarded grants, commissions and prizes such as Donaueschingen Musiktage (Germany), The Südwestrundfunk (SWR) Experimental Studio (Freiburg), MATA Festival (New York), Mizzou Composer Festival (Missouri), Ruchira Mendiones Research Fellowship (USA), Guerilla Opera Underground, Honor (USA), British Council (UK), Pro Helvetia Swiss Art Council (Switzerland), Fritz Gerber Lucerne Festival Commission (Switzerland), ASCAP Morton Gould Awards 2018, 20 and 21 (USA), American Composer Orchestra Earshot (USA), Matan Givol Composers Competition Prize (Israel), Northwestern University Conference (Chicago), Bowling Green New Music Festival (Ohio), Minnesota Orchestra Composer Institute (USA, runner-up), Royal concerto orchestral composition prize (UK), Gabriel Prokofiev Nonclassical Music Competition (UK), Léon Goossens Prize (UK), Sergei Slonimsky Award (Russia), KulturKontakt Artist in residence (Vienna), Japan Foundation Grants (Japan) and many more.
His works were performed in festivals: Darmstädter Ferienkurse, Lucerne Festival, MUSIIKIN AIKA – Time of Music, Kulturkontakt Residency, China – ASEAN Music Week, Gaudeamus Musikweek, Saint Petersburg New Music Festival, and more. He also worked with renowned performers including Arditti, Berlin Philharmonic Horn Section, International Contemporary Ensemble, Mozaik, Surplus, Platypus, Meitar, Yarn Wire, Wet Ink, Lucerne Alumni, Switch, Orkest Ereprijs, Vertixe Sonora, Vienna Improvisor Orchestra, Royal Northern Sinfonia, Aguascalientes Symphony Orchestra, American Composer Orchestra and more.
He was awarded the Don Michael Randel Research Fellowship 2022 to create his new music course: P.I.Y. (Perform it Yourself) at Cornell University where obtained his DMA in music composition. He holds M.M. in composition at Royal College of Music, London as a recipient of Charles Stewart Richardson. His major teachers are Valeriy Rizayev, Dai Fujikura, Kevin Ernste, Marianthi Papalexandri Alexandri. As a performer, he is a tubed spinning trombonist and a founder of Tacet(i) Ensemble. As a curator, he is currently serving as a chair and a program curator for Int-Act Festival.
www.piyawatmusic.com