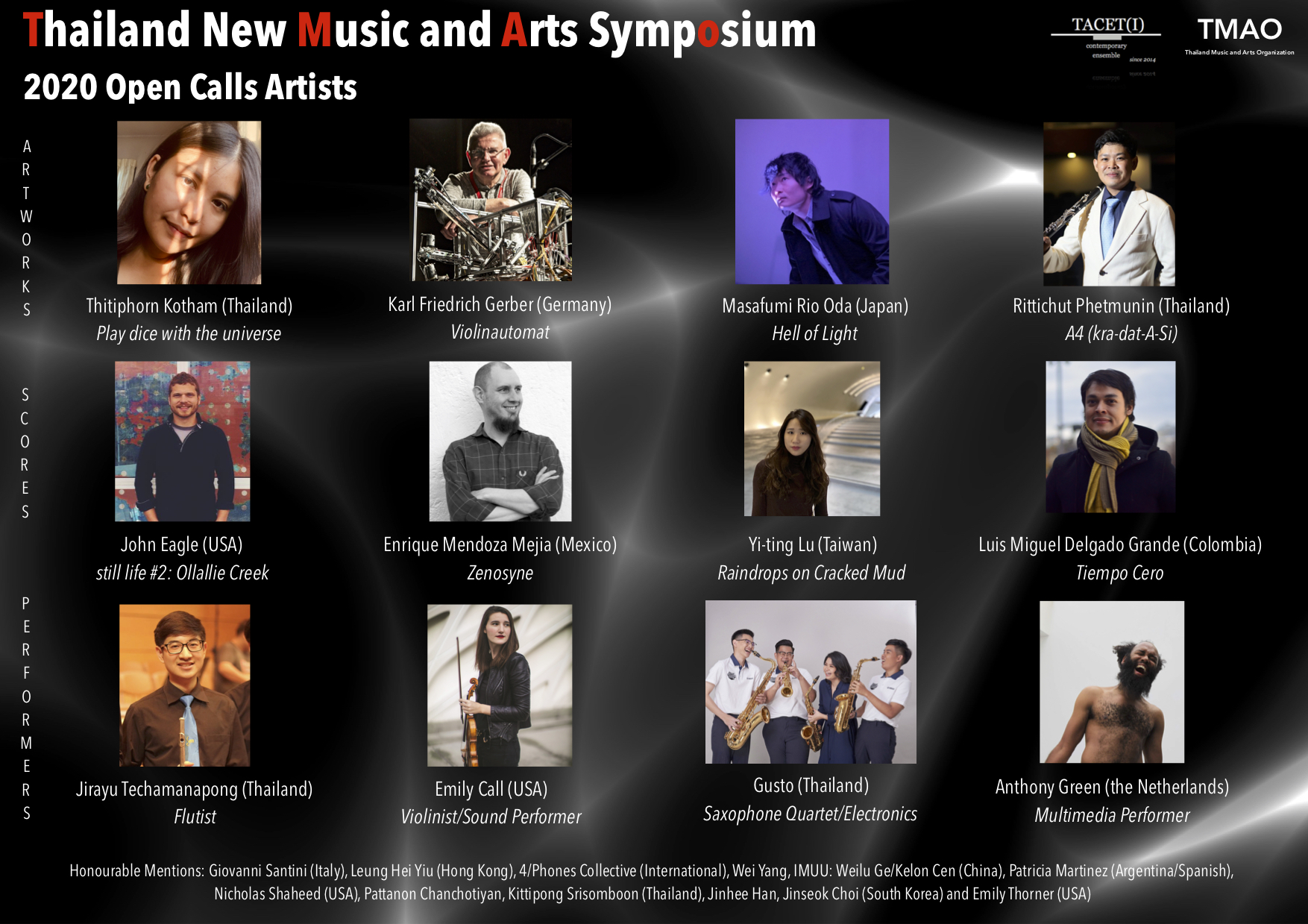 This year we received 248 submissions from 24 countries around the world. We are delighted to announce and congratulate 12 successful artists for the open call applications whose works will be performed and collaborated during the symposium 15 – 20 of December 2020 at Bangkok Art and Culture Centre (BACC).
Call for Artworks:
Karl F. Gerber (Germany) – Violinautomat
Thitiphorn Kotham (Thailand) – Play dice with the universe
Masafumi Oda (Japan) – Hell of Light
Rittichut Phetmunin (Thailand) – A4
Call for Scores:
Enrique Mendoza Mejía (Mexico) – Zenosyne
Yi-Ting Lu (Taiwanese) – Raindrops on Cracked Mud
Luis Miguel Delgado Grande (Colombia) – Tiempo Cero
John Eagle – (USA) still life #2: Ollallie Creek
Call for Performers:
Anthony R. Green (the Netherlands) – multimedia performer
Jirayu Techamanapong (Thailand) – flutist
Emily Call (USA) – violinist/electronics
Gusto Saxophone Quartet (Thailand) – Saxophone Quartet
Apart from their individual performance, all 12 selected artists will join together to perform and collaborate with other artists in the symposium under the curation by our Co-Curator, AnoThai Nitibhon and director, Piyawat Louilarpprasert.
We are also would like to recommend honourable mention artists to name their highly artistic works which are including:
Giovanni Santini (Italy)
Leung Hei Yiu (Hong Kong)
4/Phones Collective (International)
Wei Yang (China)
IMUU: Weilu Ge/Kelon Cen (China)
Patricia Martinez (Argentina/Spanish)
Nicholas Shaheed (USA)
Pattanon Chanchotiyan (Thailand)
Kittipong Srisomboon (Thailand)
Jinhee Han (South Korea)
Jinseok Choi (South Korea)
Emily Thorner (USA)