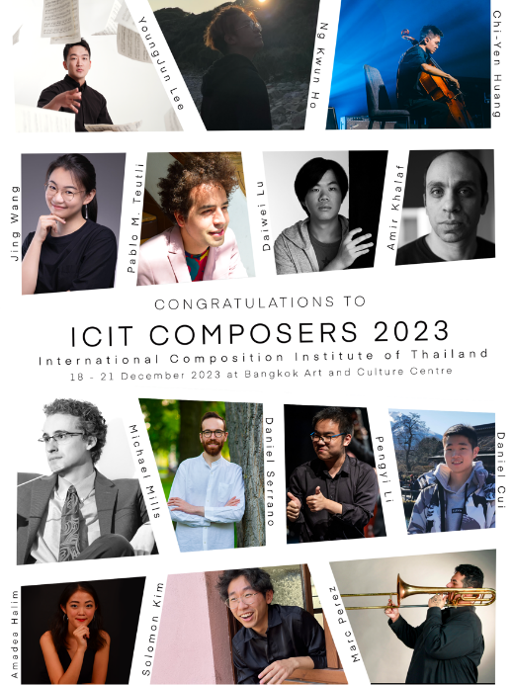 We are thrilled to announce and congratulate the 14 selected composers who will participate in the International Institute of Thailand 2023. We are eager to welcome and collaborate with them this year!
List of selected composers:
Amadea Halim (Indonesia)
Amir Khalaf (Egypt)
Chi-Yen Huang (Taiwan)
Daiwei Lu (China/Japan)
Daniel Serrano (Austria)
Daniel Cui (China/USA)
Pengyi Li (China)
Jing Wang (China)
Marc Perez (USA)
Michael Mills (USA)
Ng Kwun Ho (Hong Kong)
Pablo Martínez Teutli (Mexico/USA)
Solomon Kim (USA)
Young Jun Lee (South Korea/USA)
From December 18th - 24th 2023, selected composers will have the opportunity to work closely with the Taceti ensemble and ICIT 2023 faculties: Jason Thorpe Buchanan (USA/Germany), Anothai Nitibhon (Thailand), Emily Koh (USA/Singapore), Scott Wilson (UK/Canada), Narong Prangcharoen (Thailand), Jiradej Setabundhu (Thailand), and Piyawat Louilarpprasert (Thailand/USA). The new compositions by ICIT 2023 participants will premiere at the Bangkok Art and Culture Centre (BACC).
The total applications this year were 132 submissions from 20 countries. Each application was carefully reviewed, given the high quality and diversity of submissions made the selection process both challenging and rewarding. On behalf of the International Composition Institute of Thailand, we wish to extend our gratitude to all composers who submitted their works this year and we are very eager to experience your works again in the next edition. Once more, congratulations to the selected ICIT composers this year.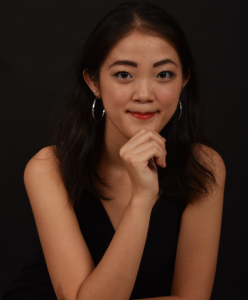 An Indonesian born pianist, music educator, freelance composer and arranger, Amadea Halim earned her Bachelor's degree in Classical Piano Performance from Conservatory of Music, Universitas Pelita Harapan (UPH), under the tutelage of Amelia Santoso in 2020. Throughout her musical journey, she won several piano contests in the past, and also won the 'Best Music' award, where she served as the music director in her high school's musical theatre production, 'Golden Egg'. During her undergraduate studies, she was trusted to be an artistic director for MATA (Mimpi Anak nusanTAra) Charity Concert in 2017, raising funds for the physically disabled and economically disadvantaged kids. Decided to deepen her study in music composition after graduating, she studied under the guidance of Nathan Paul Iskandar. Later on, she was trusted and commissioned by the department of family counselling from the Roman Catholic Archdiocese of Jakarta, to compose a jingle for 2021's YouTube show program for Catholic families to welcome the spirit of Christmas. She had also participated in 2022's Call For Scores in LunART Festival and Film Scoring Academy of Europe. Currently, she is continuing her Master's degree in Composition at College of Music, Mahidol University, Thailand.
Amir Khalaf, born in Cairo, Egypt. In 2003, He graduated from the college of fine arts in Cairo. Amir started his musical studies by receiving piano, guitar, and composition lessons. At a later age when he was 30, Amir started to compose music and since then he decided to entirely devote himself to composition. In 2020, He graduated from the University of Birmingham and awarded Masters by research in composition. In his music, Amir explores the notion of deficiency and decay as well as the limited sonorities of musical instruments. He is interested to transform motion into sound objects by creating ephemeral and insufficient acoustic environments inspired by Nature, folk music, and electronic music. He attended masterclasses and individual lessons with Pierluigi Billone, Kaija Saariaho, Frank Bedrossian, Dieter Ammann, Oscar Bianchi, Raphaël Cendo, and Mark Andre. He participated in Festivals such as Impuls, reMusik, Sound of Wander, Festival Mixtur, Young Euro Classic Festival, Etchings festival. He worked with ensembles such as Quatuor Bozzini, Ensemble Linea, Quartetto Maurice, mdi ensemble, The Callino Quartet, Vertixe Sonora, and AYPO Philharmonic Orchestra.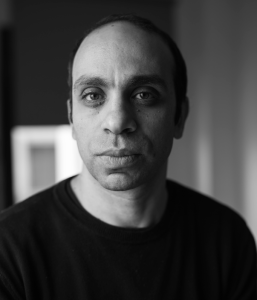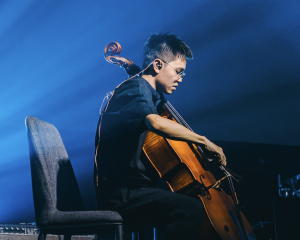 Chi-Yen Huang, born in Taiwan, is a composer intrigued by the subtle changes in timbres and power of musical gestures in both acoustic and electronic music. He also shapes the sonic world that connects directly to the spiritual realm and to the emotional experience to the audience. His music has been performed in Taipei International New Music Festival, TimeArts Studio concert, International KuanDu Arts Festival, C-Lab Diversonics Festival, New York City Electroacoustic Music Festival, etc. He has also collaborated with TimeArts Studio performers, National Symphony Orchestra (Taiwan Philharmonic), Jun Märkl, among others. In 2022, Chi-Yen is selected as the artist-in-residence at C-Lab, Taiwan Sound Lab, in Taipei (from April to October 2022). He devotes time and effort to exploring the noises, timbres, and more possibilities in the collaboration with different artists from various backgrounds, such as sound artists, VR artists, dancers, etc.
Daiwei Lu started to compose at the age of 17. He acquired BM in Music in Boston Conservatory at Berklee in May 2019, studied with EunYoung Lee, Felipe Lara and Curtis Hughes. In addition to classical genres such as solos, chamber music and orchestral works, he has also composed non-classical music like jazz and video game music. His works have been performed in China, United States, Greece, Ukraine, Brazil, Israel etc, with ensembles such as Trio Arbós, Zone Experimentale, Hong Kong New Music Ensemble, Ensemble Court Circuit and more. He has also made appearance in several international music festivals and took lessons with Michael Finnissy and Helmut Lachenmann etc. His music is characterized by combination of East Asian traditional and subcultural thoughts with interests in timbres. Daiwei is currently studying Master of Composition with Toshio Hosokawa in Tokyo College of Music.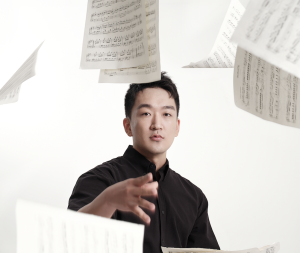 YoungJun Lee is a awarded composer, pianist, conductor and businessman from South Korea. In 2019, He was awarded John Bavicchi Memorial Prize and Vuk Kulenovic/Memorial Prize from Berklee Composition department for being the best composition students. He was also awarded to third prize in the second New Vision Composition Competition in instrumental category in New York. He is nominated as 'The Most Distinguished Musician' + Special Mention in 2019 IBLA Grand Prize. He participated in many renowned festivals such as Fontainebleau American School of Music and did masterclasses with George Lewis, Helmut Lachenmann, Irvine Arditti, Chaya Czernowin, Unsuk Chin, Olivier Weber, Pierluigi Billone, Philippe Leroux, Richard Carrick and so forth. His music has been premiered or read by talented musicians such as Brasilia National Theater Orchestra, Ensemble L'itinerarie, Mivos Quartet, Arditti Quartet, Jack Quartet, and so on. He wrote the concerto for electronic instrument for Suzanne Ciani. His music has been performed and premiered widely in US, as well as Israel, France, Austria, and Germany. He conferred his Master's degree of Art in Composition with his thesis focusing on comparative studies between Chin and Ligeti's etudes. He is currently studying in Peabody Conservatory under the supervision of Felipe Lara.
Daniel (Jingyang) Cui is a Chinese-born composer whose compositions range from solo pieces to orchestral works. He is currently pursuing his master's degree in composition at Indiana University, Jacobs School of Music, where he is working with David Dzubay and Aaron Travers. He completed his bachelor's degree in composition at the Sydney Conservatorium of Music in Sydney, Australia. During his time is Australia, he studied with many well celebrated Australian composers such as Carl Vine, Paul Stanhope, Michael Smetanin and Gerard Brophy. He has collaborated with various professional ensembles world-wide such as Prism Quartet, Sydney Chamber Choir, Sydney Conservatorium Orchestra and Sydney Conservatorium Clarinet Ensemble who had commissioned and premiered his works.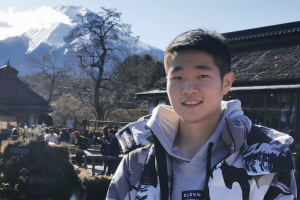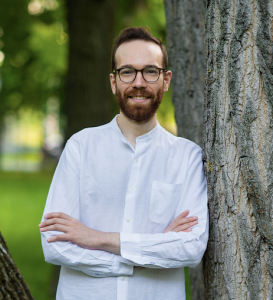 Daniel Serrano (1991) studied composition with Michael Jarrell at the University of Music and Performing Arts Vienna. He also continued his education at Impuls Academy in Graz, ARCO in Marseille, Luxembourg Composition Academy, 4th International Young Composers Academy of Ticino Musica in Lugano, Trabant Workshop for Composers in Basel and outHEAR New Music Week in Larissa, where he received lessons from Beat Furrer, Isabel Mundry, Alberto Posadas, Stefano Gervasoni, Yann Robin, Johannes Maria Staud, Frédéric Durieux, Franck Bedrossian, Elena Mendoza, Philippe Leroux, Oscar Bianchi, Francesca Verunelli, Ivan Fedele and Dimitri Papageorgiou. Furthermore, he was awarded the 1st prize of the Fanny Hensel Composition Competition in 2015, the 3rd prize of the Mauricio Kagel Composition Competition in 2016 and the 1st prize of the GMTH Artistic Competition in 2017. In addition, he received the Nikolaus Fheodoroff Composition Prize awarded by the State of Carinthia in 2017, the mdw Prize of Honour in 2020 and the State Scholarship for Composition of the Republic of Austria in 2022. His works are played by performers such as Klangforum Wien, Ensemble Multilatérale Paris, Ensemble PHACE, Ensemble Webern Wien, Ensemble Prisma Wien, United Instruments of Lucilin, Company of Music, Platypus, Quatuor Diotima and Ensemble Phoenix Basel.
Pengyi Li was born in Jinan in December 1999. He studied composition with Professor Xu Zhitong since the age of 12. In 2013, he was admitted to the High School Attached to the Central Conservatory of Music and graduated in 2019. He is finished his bachelor at the New England Conservatory of Music with Greek composer, theorist and conductor Stratis Minakakis. He will start his master degree at Zurich Hochschule der Kunste. In recent years, his music has been devoted to exploring the fusion and collaboration of multi-dimensional sound, trying to make every timbre full of vitality and existence value. He has been invited to participate in many composition projects, including AMF Festival (2018), reMusik Festival in St. Petersburg (2021,2023), New music in clarinet call for works in Florence (2022), BME Festival(2022), DePaul New Music Residency (2022), Lucerne Festival (2022), MayFlower Art Center's call for works (2022). He has won more than 15 awards in composition competitions internationally, among which are: Won the grand prize in the Barletta International Composition Competition (2018), the second prize and the first prize in the California String Composition Competition (2018, 2019),won the first prize in the solo piece category, the second prize in the chamber piece category in the Vienna "Academia Musica" composition competition (2021), the third prize in the Lithuanian Future Symphony International Chamber Orchestra Composition Competition (2018), and Honorable Mention Award in the Vienna Graz Composition Competition (2020) )and Japan IseShima International Composition Competition(2022), etc. His works have been performed in more than ten countries and cities including the United States, Italy, Russia, Serbia, etc. He also has cooperation with performers Carmine Marcello Rizz, Jarrett Hoffman, Emilio Checchini, as well as the Serbian Radio Symphony Orchestra Strings, Lithuanian LMTA Chamber Ensemble, Moscow Contemporary Ensemble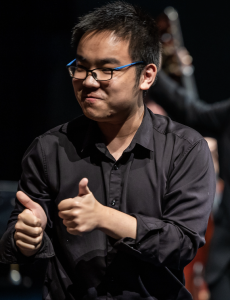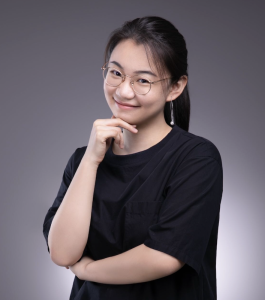 Jing Wang (b.1992) is a composer and new music improviser. She obtained her Bachelor Degree in composition at Central Conservatory of Music under Guo-ping JIA, Xin-min LUO and Jian-ping TANG, and Master Degree in composition at Hochschule für Musik und Tanz Köln under Johannes Schöllhorn. She's currently conducting her PhD research of composition at University of Hong Kong under Hing-yan CHAN. Wang's composition includes chamber music, orchestra and stage works in a variety of themes, such as Time, Space, Nature, Game, Kung-Fu, etc. Her work "Free fireflies" has achieved the Honorable Mention of 2012 BICW New Music Award and it has been premiered by E-MEX Ensemble. After that, her works started to be performed in China, Germany, Italy, Netherland, Switzerland, US, Canada, Slovenia, etc. She has participated in numerous music festivals in Europe and Asia, and worked closely with Musikfabrik, Neue Vocalsolisten Stuttgart, Trio Abstrakt, Ensemble Traversée, Toolbox Percussion, Hong Kong Philharmonic Orchestra, China Youth Symphony Orchestra, etc. In the aspect of improvisation, Wang has performed new music as a pianist with improvisers and sound artists in Germany, Italy, and Canada. She also has conducted salons of new music and improvisation in China.
Marc Perez is quickly emerging as an essential and unique performer-composer in his own right. Marc's music often features goals of addressing social issues and focusing on true inclusivity, especially when concerning musical pedagogy. His aesthetics range from ethereal, meditative soundscapes to vicious and atmospheric blends of noises. Marc has a wide range of works featuring electro-acoustic, jazz & non-traditional instrumentation settings. These works range from traditional notation to Marc's groundbreaking and engaging graphic notation. Marc has won various awards such as numerous awards from the Herb Alpert Foundation including the Herb Alpert Foundation Jazz Scholarship at UCLA (2020-2021), the Herb Alpert Foundation Jazz Scholarship (2019-2020) & the Herb Alpert Foundation Jazz Scholarship (2019-2020). He has also recently been a semi-finalist in the Unsigned Only 2022 Competition for their Jazz and Instrumental categories. Marc has also participated as an artist in festivals such as SOUNDPEDRO & High Desert Soundings. Marc continues to push pedagogy change and inclusiveness from all backgrounds with his music as well as through teaching & as an artist in residencies all over the U.S. He is currently pursuing his master's degree at California Institute of the Arts with Individuals such as Mattie Barbier, Vinny Golia, Luciana Souza, Tim Feeney & David Rosenboom. He completed his bachelor's degree in Global Jazz Studies with an emphasis in Jazz Trombone at University of California, Los Angeles. His primary composition teachers have included Carolyn Chen, Vinny Golia, James Newton, Nick DePinna, Jon Hatamiya & Hitomi Oba.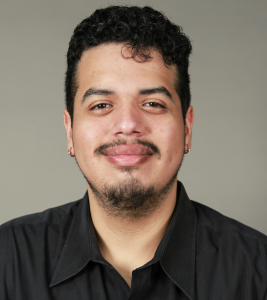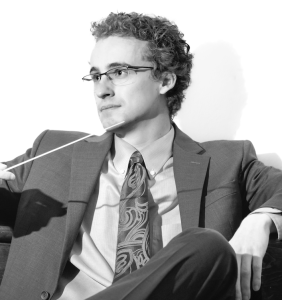 Michael Mills composes music that addresses topics of the human condition through an extremely personal lens. Utilizing a unique compositional voice that often mixes contemporary and traditional practices, Michael explores and embraces the paradox of universality amongst otherwise highly individualistic lives. He sees his music not necessarily as a means to finding answers but as an act of and an invitation to reflection. Michael's music has garnered performances throughout the American Mid-Atlantic region, on public radio, and across Europe. He has worked with groups such as the Texas New Music Ensemble, Old Bay New Music, Dal Niente, and Popebama. Michael earned an M.M. in Composition from The Peabody Institute where he studied primarily with Dr. Felipe Lara. He earned a B.A. in Music: Composition and Technology with a minor in Psychology from Virginia Tech in 2019.
Ng Kwun Ho's (Jerry Fryderyk) harmonic languages interplay with classical norms and contemporary practices alongside his extensive exploration into extended bitonality and vibrant rhythmic complexity. One of his most recent compositions Sheng Quartet posits the perplexing question of fusing eastern and western timbres. His work Sonaten für Klarinett und Fagott a moll "Die Wiener Schule" – zweite Satz was premiered by the Centre of Innovative Service-Learning in 2022. He is a composer currently reading music composition at Hong Kong Baptist University with Dr. Stylianos Dimou and Dr. Camilo Mendez.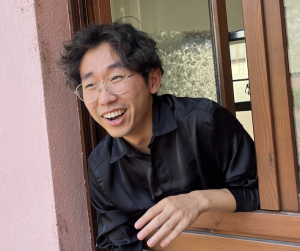 Solomon Kim (b. 2001) is a composer, improviser, and cellist, studying Music Composition and Economics as a Robert W. Woodruff Dean's Achievement Scholar and Stipe Scholar at Emory University. His music explores the political/economic implications of artistic production, and community-building as a means and goal of artistic expression. Solomon's work has been showcased in the United States, Japan, Germany, and Italy; recent venues include the Cremona Summer Festival, International Christian University, College Music Society Southern Chapter Conference, Underground Atlanta, and the Michael C. Carlos Museum. Recent and upcoming collaborators include Hypercube, the Emory Wind Ensemble, the Atlantic Music Festival Contemporary Ensemble, the American School in Japan Vocal Jazz Ensemble, and other groups across the United States, Japan, and Europe. Solomon's work has been honored by the College Music Society, Society of Composers, Inc., Stipe Society of Creative Scholars, and others. He regularly performs at events around Emory and Atlanta, including with the Atlanta Improviser's Orchestra/Chorus, Emory CompFest, the Nakatani Gong Orchestra, and Emory student musicians. He was a finalist in the 2023 Emory Concerto & Aria Competition. Solomon has also presented his research on popular music at various venues, including the Research on Contemporary Composition conference at the University of North Georgia.
Pablo Martínez Teutli, Young Mexican composer. He studied at the Faculty of Music in National Autonomous University of Mexico and at the University of California at Berkeley. He is currently completing his Master of Music studies at the Jacobs School of Music, Indiana University in Bloomington. His training has been guided by Lucía Álvarez, Arturo Márquez, Ken Ueno, P. Q. Phan and María Granillo. His music has been presented at the Nezahualcóyotl Hall, the Roberto Cantoral Cultural Center, the Tlaqná Cultural Center, the Palace of Fine Arts, among other venues, as well as at the Manuel Enríquez International New Music Forum, and at the Autumn Artistic Festival in Mexico City. In 2020 he received a scholarship from the FONCA Young Creators program and in 2016 he received the Arturo Márquez Extraordinary Professorship for Music Composition from UNAM. Some of his awards are: National Composition Contest to Commemorate our Historical Memory, Ministry of Culture (2021), Salvador Contreras National Music Composition Contest (2020), Second National Composition Contest for Percussion Quartet (2018), Arturo Márquez Composition Contest for Chamber Orchestra (2017), among others.